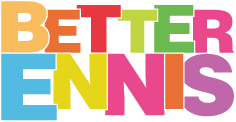 Open Letter to Clare County Council
A collective civic request for our Ennis streets to facilitate good public health and safety during the Covid-19 pandemic
Thursday, May 21st 2020
Please note that this is a living document as co-signatories are added to the letter.
Mr. Pat Dowling,
Chief Executive
Clare County Council,
New Road,
Ennis,
Co. Clare
Dear Mr. Dowling,
Better Ennis is a new local community group of health professionals, residents, and business owners who live, work, and shop in our county town, Ennis, set up to help improve Ennis as a healthy place to live, to work, to visit. Protecting public health for people of all ages and abilities is our shared concern, especially for older people and people who are disabled, and particularly as we work to re-open our society.
We would like to engage with our Council specifically about the reallocation of public space to people on foot, on bikes, people using wheelchairs and mobility aids during the COVID-19 pandemic. We welcome Clare County Council's timely implementation of Stage 1 of the Mobility Plan for Ennis - the COVID-19 pandemic is a global health emergency that has required us to change our behaviour in many new ways, and our streets need to urgently accommodate physical distancing and physical activity.
The World Health Organisation (WHO) recommends physical distancing and physical activity :
"whenever feasible, consider riding a bicycle or walking to provide physical distancing and daily physical activity' during the COVID-19 emergency" - World Health Organisation, 2020
Our local independent businesses face a daunting economic challenge ahead while managing a safe physical environment for their customers. Shops are facing increasing competition from online ordering and home delivery, as well as shopping centres and outlet stores. As we re-open our local businesses, we need to ensure that people not only have safe streets to enjoy, but will perceive our streets as being safe, so they will venture into Ennis to support our local businesses. We welcome their use of a cooperative public space. We need to make sure that the town has an inviting public realm that encourages people to visit, to shop, to eat, to slow down and spend time.
We have outlined below our initial 10 recommendations.
10 Recommendations for Reallocation of Space in Ennis Town for Improved Public Health & Safety
These measures will improve and maintain people's physical and mental health in the middle of a public health crisis. We hope that all measures will be continuously evaluated through a number of different parameters and that all feedback through extensive community engagement - with businesses, community groups, and residents - will be taken on board.
1. Filtering Through-Traffic & Disabled Parking
We need to ensure that the immediate environment of Ennis within a 5km radius of people's homes is a safe and pleasant place to walk. This will also discourage people from travelling beyond their 5km to the coast.
People queuing outside shops are lining up on narrow footpaths next to on-street parking and driving lanes, preventing safe social distancing. Filtering of through-traffic is recommended between the hours of 10am and 7pm, each day of the week, from O'Connell Street, Abbey Street, Bank Place, Old Friary Lane, Salt House Lane, High Street, Lower Market Street, Barrack Street and Francis Street from the Friary car park to Abbey St.
We recommend additional disabled car parking spaces in town to improve accessibility of our public spaces to all.
2. Public Realm - Placemaking, Greenery & Age-Friendly Seating
We recommend the drafting of a temporary Placemaking Plan for Ennis for the duration of the pandemic.
Age-friendly, public seating should be provided to allow for those with mobility requirements to rest and encourage them to take their exercise in town.
Greenery, seating and temporary attractive lighting should be used to attract people to the town and encourage them to slow down and enjoy the public spaces. People attract people and help reduce any anti-social behaviour, by providing 'eyes on the street'.
Attractive planters or simple bollards should be used when filtering through-traffic, with traffic barriers and signage clutter to be avoided - we need to ensure that the town not only looks inviting but is as safe as possible, particularly for people with disability..
3. Traffic Lights & Crossings
We are recommending removing any delay from all pedestrian signal crossings during daylight hours, to prevent people clustering at crossings.
Pedestrian crossing times should be increased significantly across the town to accommodate those with mobility issues.
Signage to prevent people pressing the buttons should be added and where possible the signals should be automated.
4. Street Cleaning
Keeping the streets clean will encourage people to walk within the town itself and improve people's perception of safety.
Installation of dog-poop compostable bag distributors in the town centre similiar to those at Lees Road will encourage dog walkers to help keep the streets clean and walker-friendly. Dog littering is unpleasant for everyone, but disproportionally affects people using wheelchairs.
5. Road Safety & Reduce Speeding
There are road safety issues with reduced vehicle traffic, most significant of which is speeding, but also includes red light breaking and phone use by motorists. The number of road collisions and subsequent fatalities and injuries has increased in Ireland since restrictions began (RSA data). We suggest the introduction of a temporary blanket 30 km/h speed limit on all town and outskirts roads during the pandemic and we urge more enforcement by An Garda Síochána.
As research findings show, slowing the speed of cars will make walking and cycling more pleasant, reduce the risk of collisions, and reduce the severity of injury on impact, should any collisions occur. This in turn will help reduce the demand on emergency services.
6. Introduction and Widening of Footpaths
Narrow footpaths do not provide the space to adhere with HSE social distancing guidelines. We recommend the widening or introduction of footpaths using bollards or planters on wider roads (avoiding railings or barriers than can pen in pedestrians).
A number of town centre locations lack footpaths on both sides of the road e.g. Mill Road, Gallows Hill. Narrowing of roads will also act as a traffic calming measure to reduce motor vehicle speeds .
By providing safe walking routes to the town, it allows people the choice to walk and it will help reduce traffic congestion for those who choose to drive.
7. Prevention of Parking on Footpaths and in Cycle Lanes
Drivers parking on footpaths make it difficult to keep physical distancing on footpaths.
We recommend that our Traffic Wardens strictly enforce no parking on footpaths throughout the town, as this disproportionately affects people in wheelchairs, those with visual or mobility impairments, people with mobility aids, and those with young children.
8. Bike Parking Provision
Since the start of the pandemic and with less traffic on the roads, more people of all ages are now cycling in Ennis. This welcome change in behaviour needs to be encouraged.
Lack of bike parking is resulting in bikes being locked to poles and railings which is making our streets less attractive and unsafe for pedestrians, particularly those with visual impairments.
Installation of additional bike parking using Sheffield bike stands throughout the town e.g. Turnpike Road near McNamara Park, lower Parnell Street, Bank Place Abbey Street car park, would be helpful.
9. Temporary Cycle Lanes
Installation of temporary cycle lanes using bollards or planters (not traffic barriers which are unsafe in this context) will help connect existing cycle lanes to expand a network around town e.g. Kilrush Road from Carmody Street out to Cahercalla Road and on to Ennis National School.
Narrowing of roads to accommodate these cycle lanes will also act as a traffic calming measure to reduce motor vehicle speeds.
By providing safe cycling routes to the town, it allows people the choice to cycle and it will help reduce traffic congestion for those who choose to drive.
10. Air Quality Improvement
In past Winters, air quality in Ennis , has broken recommended limits. COVID-19 can cause severe respiratory distress, which is of particular concern to those with underlying respiratory conditions.
Traffic emissions cause 1,700 new cases of asthma each year in Ireland. It is important we do all that we can to improve the air quality of Ennis streets to protect those vulnerable to Covid-19 and also to help those recovering from Covid-19 to do so in as best an environment as possible.
A promotional campaign to encourage people who live within the town to avoid short car journeys and choosing to walk or cycle would also be welcome.
We, the undersigned, look forward to beginning a conversation about how we can assist in making Ennis a town that helps keeps everyone safe and healthy, while supporting our local businesses.
Yours sincerely,
Better Ennis Committee
Ailín McAllister
Shane Slattery
Síle Ginnane
Email: betterennis@activetravel.ie
Letter Copied To
cc Carmel Kirby, Director of Physical Development, Municipal District of Ennis
cc Chief Superintendent Sean Colleran, An Garda Síochána, Divisional HQ Ennis
cc Leonore O'Neill, Senior Executive Office, Ennis Municipal District
cc John Crowe, Chair of the Physical Development Strategic Policy Committee
Co-Signatories
National & Local Bodies
Association for Health Promotion Ireland
Ailish Drake, National Spokesperson, Irish Pedestrian Network
Dr. Lorraine D'Arcy, Senior Lecturer in Transport & Mobility
Dr. Damien Ó Tuama, National Cycling Coordinator, Cyclist.ie - the Irish Cycling Advocacy Network
Colm Ryder, Chair, Cyclist.ie - the Irish Cycling Advocacy Network
Clare PPN
Clare Leader Forum
Mairéad Forsythe, Coordinator, Love30
Green Schools Travel
Ennis Book Club Festival
Anne Marie Harrington, Community Organiser, Futureproof Clare
Niamh O'Callaghan, Secretary, on behalf of the LoveShannon Committee
Elected Representatives
Seán Kelly, MEP
Grace O'Sullivan, MEP
Ciarán Cuffe, MEP
Cathal Crowe, TD
Cllr. Paul Murphy
Cllr. Cillian Murphy
Cllr. Róisín Garvey
Cllr. Donna McGettigan
Local Co-Signatories
Anne McNamara, Chartered Physiotherapist
Patricia Curtin, Chartered Physiotherapist
Fionnuala Ní Mhaoileóin, Chartered Physiotherapist
Eilis Foley, Tobarteascain
Lisa Smyth, Architect & Urban Designer
Sinéad Ginnane, College Road, Ennis
Mary McAllister
Ian Dinan
Micheál MacGearailt, Sixmilebridge
Cliff Parrott, Westfields, Ennis
Maeve Hoey, Ard na Gréine, Ennis
Trudy Leyden, Ennis
Pete Brennan, Tulla Road, Ennis
Shane Felle, Shannonside Building Supplies, Ennis
Tommy Corbett, Director, Carey Corbett Financial Solutions, Ennis
Matthew Noonan, Clonlara
Padraig Guerin, Peppermill Restaurant, Ennis
Rory McAllister
Colm Garvey, Inagh
Deirdre Kennedy
Justin Shorten, Cork
Siobhán Ní Gháirbhith, Director, St. Tola Cheese
Barry O'Donovan, Tuamgraney
Sarah Ferrigan, Ennis
Gerry Curran, Gort Road, Ennis
Éamon Ó'Gáirbhith, Tulla Road, Ennis
If you would like to co-sign this letter, please contact Better Ennis via email at betterennis@activetravel.ie or submit the form below. Thank you.