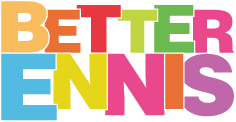 Better Ennis Feedback on Stage 1 of the Mobility Plan for Ennis during Covid-19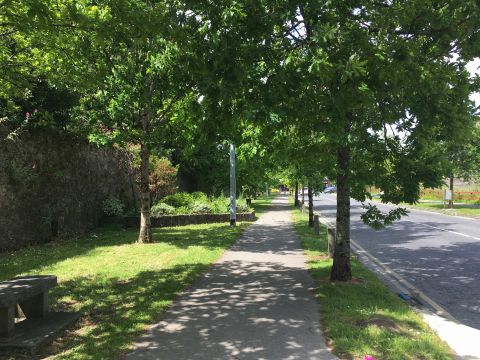 May 29th 2020
1. Traffic Barriers: Safety Issue
We'd like to draw your attention to the traffic barriers as they are used in places, in one continuous barrier. Referring back to our Open Letter at www.activetravel.ie/openletter, the barriers used in this way during physical distancing are not safe. Unfortunately, they pen in pedestrians and they do not provide an opportunity to cross the road at any particular point, nor to physically distance when passing oncoming groups of pedestrians.
Update 29th May 2020, 5.20pm: We welcome the removal of the traffic barriers from the bridge today, and their replacement with planters and slimline bollards to allow for safe physical distancing and more organic movement of people. We would welcome an intervention on their use at Summerhill also.
2. Construction Signs & Barriers
We would like to see the removal of many of the constructions signs and single traffic barriers currently used to filter through traffic, as uncluttered streets are much safer for people with disabilities including those with visual impairments. Using fewer mid-sized planters or seating for the purposes for filtering day-time, through-traffic makes the place more inviting for people to be physical active in the town.
The general use of seating in the town will allow those who need a rest to be more comfortable on our streets, particular older people, people with respiratory and cardiac conditions, people recovering after orthopaedic surgery.
3. Traffic Flow: Francis Street - Abbey Street - Abbey Street Car Park
We would urge Clare County Council to review the traffic flow along the end of Francis Street to the junction of Abbey Street and into Abbey Street Car Park. Allowing traffic here does not allow safe physical distancing on either footpath (on Ciarán's side nor on the Queens' side). We would recommend that day-time, through-traffic be filtered from this section of the street from the exit of the Friary Car Park.
This, in turn, would allow for less bollards and clutter as people approach the town from Club Bridge and provide a more inviting streetscape for people to be encouraged to be physically active on the streets.
4. 7 Days a Week
We suggest that the Mobility Plan remain in place throughout the week, including Sundays, so that people can become familiar with the traffic flow and to encourage people to be physically active throughout the week, while maintaining safe, physical distancing.
5. Speed Limits & Road Safety
Given the recent statistics from the Road Safety Authority that indicate a rise in pedestrian fatalities since the pandemic - with An Garda Síochána expressing concern that with less traffic congestion, drivers are observed speeding and using their mobile phone. - we urge Clare County Council to consider the points in our Open Letter regarding speeding with regard to the reduction in speed limits to 30km, not only in town but on its outskirts. We also recommend installation of temporary cycle lanes and widening of footpaths, as narrowing of wider roads will influence driver behaviour.
There has been a 17% increase in the number of fatal crashes and a 9% increase in road deaths compared to last year. 60 people have been killed in 56 fatal collisions up to the 26 May 2020, compared to 55 deaths in 48 fatal collisions up to 26 May 2019. 18 pedestrians have been killed this year compared to 9 in 2019.
Citizen Engagement & Design Suggestions
We would welcome the opportunity to sit down (apart) discuss our 10 Recommendations outlined in our initial Open Letter with regard to facilitating public health and safety during the pandemic. For the implementation of temporary widening of footpaths, and cycle lanes, we are recommending that mid-sized planters may be appropriate on certain streets and will include suggestions for design on this website at www.activetravel.ie
Kind regards
Better Ennis Committee
Ailín McAllister
Shane Slattery
Síle Ginnane