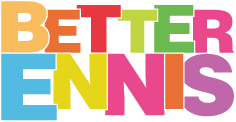 Press Release: Opening Up Ennis Streets
New Community Group Welcomes Council's Mobility Plan
Press Release, May 19th 2020
Better Ennis is a new local community group that advocates for healthy and happy streets, and its very first campaign is a timely one - the reallocation of space for people walking and cycling in Ennis. Inspired by a number of national and international initiatives during the pandemic, the group is looking to Clare County Council to ensure that people have safe streets to enjoy while still maintaining physical distancing when moving about the town. Wednesday, 20th May, has seen the implementation of Stage 1 of the council's Mobility Plan for the town, filtering through-traffic from many of the town's streets between 7am and 6pm. The Better Ennis group are submitting an open letter with their recommendations to the council this week, supported by local and national elected representatives, and backed by national organisations such as the Association for Health Promotion Ireland.
Síle Ginnane, a physiotherapist who works in the area of active travel and co-founder of Better Ennis
"We welcome the current Mobility Plan that the council has introduced for Ennis town centre. These measures will improve and maintain people's physical and mental health in the middle of a public health crisis, and will allow people recovering from the virus to have a safe environment in which to do so. We hope that this temporary Mobility Plan will be regularly evaluated, improved and expanded, based on feedback from the business community, from residents, and from community groups in the town."
Covid-19 causes acute respiratory distress and traffic emissions aggravate respiratory conditions. Traffic pollution alone causes 1,700 new cases of asthma each year in Ireland. Encouraging people to walk or cycle will help the air quality of Ennis town - this is crucial to help those already vulnerable to the virus and those who are recovering from it.
The benefits of physical activity are many. Approximately 10,000 people die each year in Ireland from cardiovascular disease - including coronary heart disease, stroke and other circulatory diseases. The physical environment of towns and cities has an impact on whether people choose to walk or cycle as part of their daily lives.
One of the founding members of Better Ennis is Shane Slattery, Ennis man and secondary school teacher
"In my role as Erasmus+ Project Co-ordinator organising school exchanges, I've seen the benefits of proper cycling and walking infrastructure in the Netherlands. There are many health benefits that come from physical activity but having quality infrastructure also empowers teenagers with independence and freedom. We want to make Ennis a flagship healthy town for people of all ages and abilities to enjoy."
The numbers of people walking and cycling in Ennis have increased noticeably over the last two months. Social interaction is improved when people are out and about, meeting and greeting, and this in turn, improves a sense of community.
Ailín McAllister, a psychotherapist and founding member of Better Ennis > "We want the town centre to provide a space that is social and safe for everyone. This pandemic has highlighted our need as a society, to connect to one another. A town centre that can facilitate that safely for us all is something worth working towards."
The Better Ennis group welcomes the positive feedback from the businss community, particularly the results of the recent Ennis Chamber survey where over 70% of town centre business responded in favour of pedestrianisation. The group emphasises the need for local independent shops to survive in order for our town to thrive and urge local people to support the local economy instead of travelling to shopping centres out of town, or ordering from far afield.
Emer O'Reilly of EBS Ennis
"Filtering day-time, through-traffic from our core town centre streets is very much a welcome initiative by Clare County Council. It is important that we encourage people back into the town, to support local business and we can only do this if people perceive our streets to be safe places to move about with adequate social distancing. In fact, less traffic on our main streets will make the town far more pleasant for everyone."
Shane Felle, Shannonside Building Supplies
"I've seen first-hand over the last few months, the need for space in order to successfully run a business in town. The move towards reducing through-traffic on our main streets is important to accommodate people walking safely while maintaining social distancing."
This pandemic has highlighted the impact of the public realm on public health. The Better Ennis group is aiming to help reimagine Ennis public space to ensure that people stay healthy and keep connected. Embracing creative urban design, community engagement and best practice will help ensure that Ennis emerges from this crisis an even better town in which to live.
-- ENDS --
ABOUT BETTER ENNIS
Better Ennis is a local community group that advocates for healthy and happy streets. We are looking to help make Ennis a place where people want to spend time, and to build a community where people can walk and cycle safely and comfortably.
The benefits are many: Improvement in our population's physical and mental health Improvement in our town's air quality, by reducing traffic emissions Improvement in social interaction, and in so doing, improve social integration Improvement in our local economy, by encouraging people to slow down and enjoy the town.
www.activetravel.ie/betterennis
PRESS CONTACTS
Contact: Shane, Síle, or Ailín at betterennis@activetravel.ie or Phone: 087 2937149